What's next for Brisbane's office market?
With office occupancy expected to remain below pre-COVID levels for some time, landlords may need to diversify their tenant base to incorporate non-traditional occupiers.
The impact of COVID-19 on the office market
It has been over 12 months since the first case of COVID-19 was reported in Australia, yet the pandemic continues to have a profound impact on the Brisbane office market. The latest figures from the Property Council of Australia show that office occupancy levels in the Brisbane CBD remain well below pre-COVID levels, currently at 64% (as of February 2021), and data from TransLink shows that public transport patronage was down 35% y-o-y (February 2021).
While restrictions have mostly eased in Queensland, many employees continue to work-from-home, either on a flexible or full-time basis. Work-from-home in some capacity is likely to be the new norm as many organisations have adopted a hybrid working model. However, the question remains – what will this mean for the office sector moving forward? 
The tenant base will need to diversify
Historically, the Brisbane office market has been dominated by five key industries: Professional Services, Mining, Finance and Insurance Services, Information Technology, and the Public Sector. Combined, these industries have contributed to 66% of gross take-up over the past ten years. However, COVID-19 has heavily impacted several businesses within these industries, forcing them to either sub-lease or put relocation plans on hold.
With office occupancy expected to remain below pre-COVID levels for some time, landlords will need to diversify their tenant base to incorporate non-traditional occupiers from sectors such as education and healthcare.
Over the past ten years, the healthcare and education industries have contributed to 2.5% and 5.0% of leasing demand, respectively. While these two industries are not currently a large part of the existing tenant base for institutional office landlords, the inclusion of these sectors provides an opportunity for landlords and tenants alike.
For landlords, industries with a low level of cyclicality, such as healthcare and education provide an attractive option compared to some of the traditional office tenants, which are challenged by ongoing economic uncertainty. Vacancy risks can be hedged further with the option of longer lease terms, which often appeal to healthcare and education related tenants.
While education and training facilities must meet a set of fit-for-purpose criteria in Australia (known as Class 9B), weaker market conditions and a competitive leasing environment may encourage landlords to embark on capital expenditure programs to meet these criteria.
For healthcare and education related occupiers, prevailing market conditions may provide the opportunity to upgrade existing spaces and take advantage of the competitive rents and fit-outs on offer – both prime and secondary gross effective rents are currently below the historical average in the CBD and Near City markets.
Why healthcare and education?
In early 2020, Jobs Queensland released a study on future employment through to 2024 in the state. The study projects that 60% of all new jobs will be created across just four industries – Healthcare, Professional Services, Education, and Accommodation and Food Services.
According to the study, this will lead to a net increase of 88,350 healthcare and education related jobs in Queensland – half of which are expected to be in Brisbane. In addition to already being the largest employing industry in Queensland, healthcare is projected to be the fastest growing industry in the next five years (17.1%), while education is also expected to see above-average growth at 13.1%. A detailed analysis on this can be found in our recently released report Brisbane Office – Employment, Trends and Outlook. 
Figure 1: Net Increase in Employment in Brisbane by Top 5 Industries (2019-2014)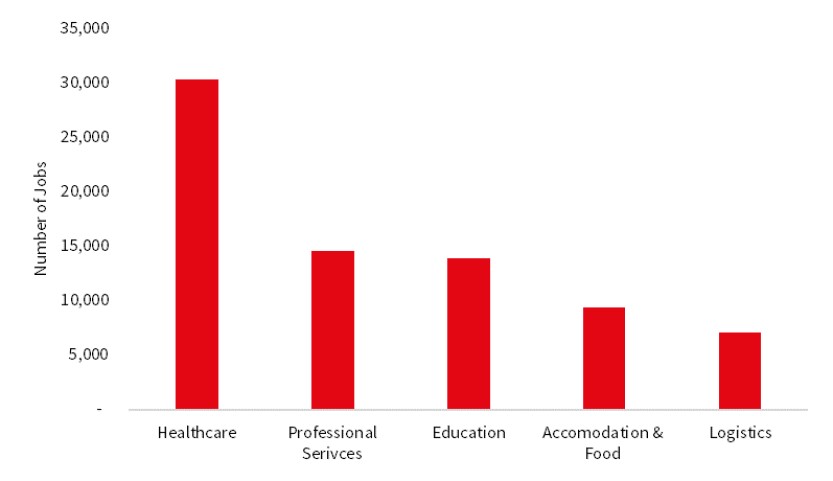 The growth and adaptability of these industries has already been witnessed in the Brisbane office market. Late last year, Mater - one of Queensland's largest health operators - announced that they would occupy 14 Stratton Street, Newstead (Near City), as their new corporate headquarters and training base. Mater has pre-committed to the entire 9,000 square metres development on a ten-year term with two five-year options, and it is expected to complete in the coming months.
Last year, Griffith University also announced its plan to relocate its suburban campus and establish a presence in the Brisbane CBD. Griffith is currently in negotiations with the Queensland Government to develop a 55-storey tower in the CBD, which is said to provide better connectivity for engagement with industry, government and other stakeholders, as well as give better access to students. 
While the headwinds facing the office market are expected to persist over the short term, the prospects for employment growth within the healthcare and education industries are strong. That growth may provide an opportunity for landlords to diversify their occupier base and give healthcare and education tenants scope to improve their operating environment.