Singapore's resilient Good Class Bungalow market
Singapore's GCB sales prevailed in 2020 despite pandemic and recession, hitting SGD802 million in 1Q-3Q20, about 66.3% of the SGD1.21 billion recorded in 2019.
Undaunted by the pandemic and recession, sales of Singapore's Good Class Bungalows (GCBs) have held up well in 2020, totalling SGD 802 million in 1Q-3Q20, or about 66.3% of the SGD 1.21 billion recorded in 2019. The term "Good Class Bungalow" is a URA planning term and nestled in only 39 gazetted areas. Therefore, GCBs may be considered as the most exclusive type of landed housing in Singapore, due to its limited supply of less than 2,800 units and a minimum plot size of 1,400 sqm.
Following the Global Financial Crisis in 2008/09, the GCB market recovered sharply in 2010, registering 123 transactions worth SGD 2.14 billion. However, the introduction of cooling measures led to transaction volumes falling significantly in 2011 and the GCB market has not recovered to its high in 2010. After the Total Debt Servicing Ratio was imposed in 2013, the GCB market sunk to a low in 2014, with only 26 transactions worth SGD 0.58 billion. Since then, its recovery has been gradual, reaching a healthy sales value of SGD 1.24 billion in 2018, before easing slightly in 2019 due to tightening of cooling measures in July 2018.
Fig 1: GCB Market Annual Sales Transactions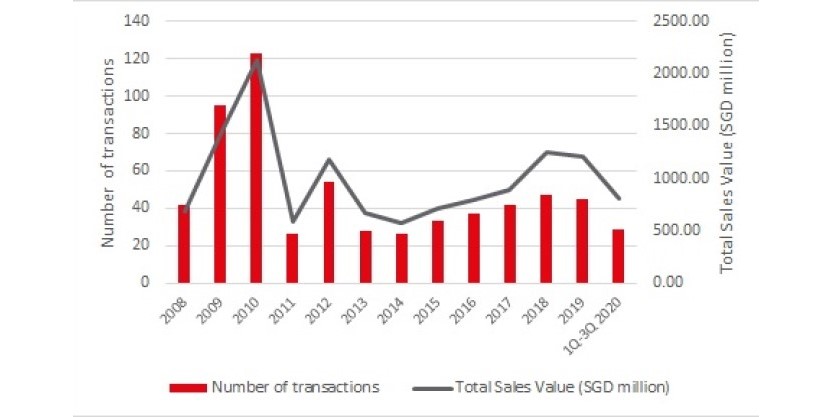 The market was astonished by the transaction value of SGD 466.98 million in 3Q20, the highest quarterly value since 4Q10 when GCB transaction sales reached SGD 514.30 million. Prior to this, the record quarterly transaction value was SGD 802.28 million in 2Q10 (See Fig 2).
Fig 2: GCB Market Quarterly Sales Transactions
Source: JLL Research/URA Realis
The sharp increase in GCB purchases in 3Q20 shows that there was significant pent-up demand from GCB buyers following the easing of circuit breaker measures which impeded market activity for most of 2Q20. Despite the pandemic and recession, high net-worth individuals, including tycoons, successful businessmen and professionals and wealthy families have shown interest in acquiring GCBs.
The largest transaction in 3Q20 involved the sale of a freehold GCB in September by the Lee family of Thye Hong Manufacturing at Garlick Avenue for SGD 93 million, or SGD 1,145 per sq ft over a land area of 81,240 sq ft. The buyer was reported to be the family of Singaporean billionaire, Goh Cheng Liang. This deal accounted for one-fifth of the total GCB transaction value in 3Q20.
Fig 3: Top 10 GCB sales from 1Q to 3Q20
No.

Location

Tenure

Land area (sq ft)

Sale price

Sale price (per sq ft)

1

Garlick Avenue

Freehold

81,240

$93,000,000

$1,145

2

Leedon Park

Freehold

44,433

$73,000,000

$1,643

3

White House Park

Freehold

35,290

$60,000,000 (approx.)

$1,700
(approx.)

4

Cluny Park

Freehold

20,365

$40,000,000

$1,964

5

Nassim Road

Freehold

13,293

$38,380,000

$2,887

6

Bin Tong Park

Freehold

28,115

$37,600,000

$1,337

7

Garlick Avenue

Freehold

22,593

$37,500,000

$1,660

8

Dalvey Estate

Freehold

18,223

$36,000,000

$1,975

9

Gallop Park

Freehold

27,491

$35,000,000

$1,273

10

Dalvey Road

Freehold

15,565

$28,500,000

$1,831
Source: URA Realis/JLL Research
GCB sale prices ranged from SGD 6.3 million to SGD 93 million from 1Q20 to 3Q20. Land rates varied from SGD 858 per sq ft to SGD 2,887 per sq ft. The more affordable GCBs are found in the Chestnut Crescent area, while the GCB enclaves at Nassim Road, Dalvey Estate and Cluny Park command higher values. The top ten GCB deals in the first nine months of 2020 are listed in Fig 3.
The sales momentum of GCBs has continued into 4Q20 with eleven units transacted until end-November, fetching a combined value of SGD 202.10 million. Although 2020 GCB sale value may not rival the SGD 1.21 billion fetched by 45 units in 2019, the GCB market will end the year on a healthy note. Market outlook in 2021 is likely to be positive due to economic recovery and availability of vaccines, strengthening the battle against COVID-19.