NZ supply chain fueling logistics demand
Global supply chain issues have caused many NZ businesses to move from a 'just-in-time' model to 'just-in-case'.
The supply chain, once a little known and little cared about link of the logistics industry, is now under a harsh spotlight, with many end-users asking, "why is my order delayed?"
To understand what the supply chain entails, put simply, it is a link of systems that enables the flow of goods from creation to consumer or the often-used phrase, 'from farm to fork'. To provide a clearer picture, we've reduced this system to five critical links.

Figure 1: 5 critical links to enable commerce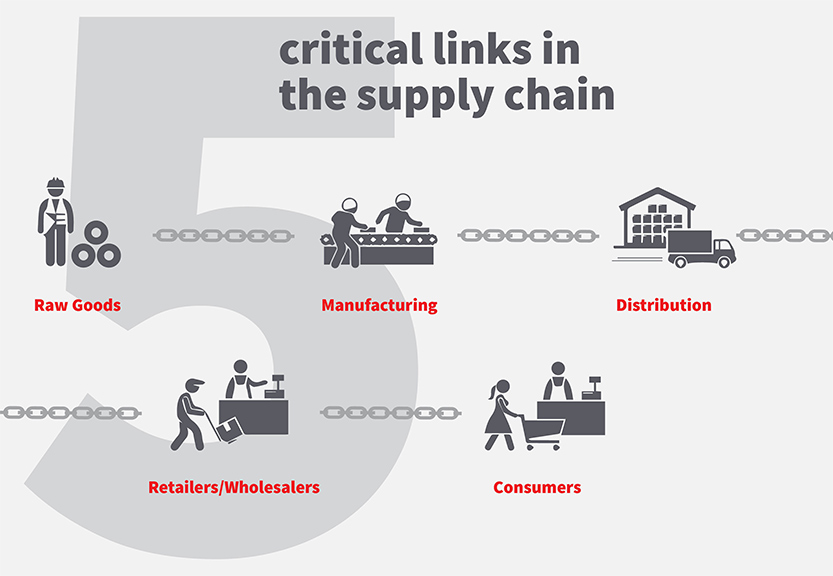 The supply chain disruptions have been impacting trade and commercial real estate worldwide since the outbreak of COVID. They are expected to continue well into 2022 with the emergence and global proliferation of the Omicron variant.
Comparatively, New Zealand doesn't do a lot of manufacturing – most of its supply chains involve finished goods being shipped directly into the country from overseas and stored in distribution warehouses until needed. New Zealand is heavily reliant on international suppliers' ability to ship finished goods into the country, leaving the economy highly sensitive to any disruptions to the distribution links.

Figure 2: 5 issues currently facing global supply chain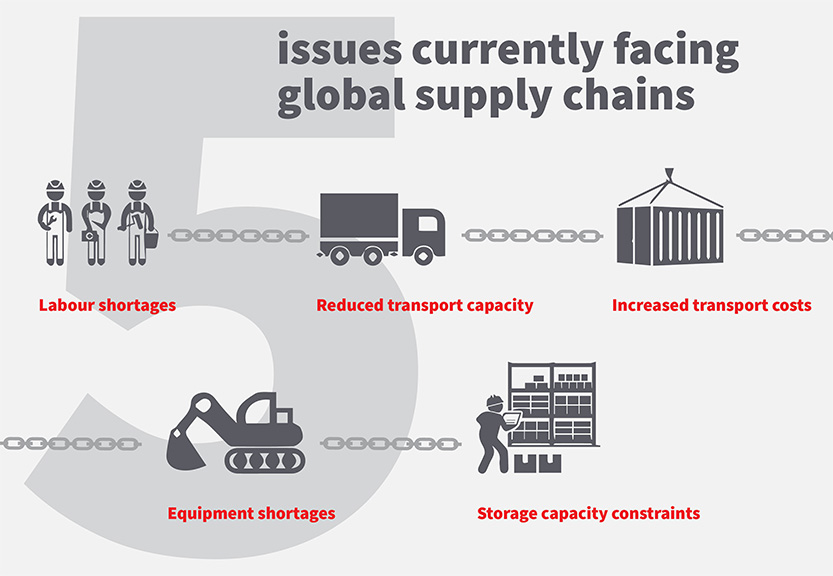 Businesses in NZ and worldwide are moving away from the philosophy of just-in-time towards a new model known as 'just-in-case'. This philosophy entails increasing inventory footprint, placing larger and less frequent shipments, and running more conservative forecasting with tighter demand planning. Businesses are less exposed to international shipping price increases and delays by keeping additional safety stock in larger warehouses.
Among everything else, the rising cost of fuel and the increasingly vital necessity for investment in viable alternatives have only exacerbated the disruption in the supply chain. There is no easy solution for runaway fuel charges, so what businesses ask themselves about their supply chain:
Are we working with green carriers and suppliers who use sustainable vehicles for deliveries?
Do we know our carriers' and suppliers' sustainability strategies, and do they correlate with our own?
Do we use electric forklifts instead of gas?
Are our warehouses optimised for sustainability?
Can we retrofit, or should we consider moving?
However, just-in-case is not without its drawbacks. It requires larger warehouses, and in a hot property market where industrial vacancy rates are sub 1%, this can be a challenge all on its own.

The increased need for agility and flexibility across commercial real estate in the current global climate has forced the logistics sector to embrace technology and digitisation to increase resilience.

The 'just-in-case' model has seen a surge in logistics and industrial property investment, resulting in record-low yields and vacancies. We expect the trend to continue for the foreseeable future, especially with the anticipated resurgence of offshore capital in New Zealand commercial real estate due to eased border restrictions.