Hong Kong's cold storage sector on the upswing
As investors' interest towards cold storage grows, what are the opportunities and challenges?
Hong Kong is one of the few developed economies where e-commerce penetration remains low. In 2020, a mere 5.7% of the city's total retail sales came from online, while the world's average stood at 13.7%. Not to mention China – Hong Kong's major trading partner, where online sales contributed to over 30% of retail sales. This considerable gap suggests a huge potential in e-commerce development for the city. A good push is probably called for. The outbreak of COVID-19 has accelerated this structural change.
         Figure 1: Sales value of Internet retailing as a percentage of total business receipts/retail sales (2019)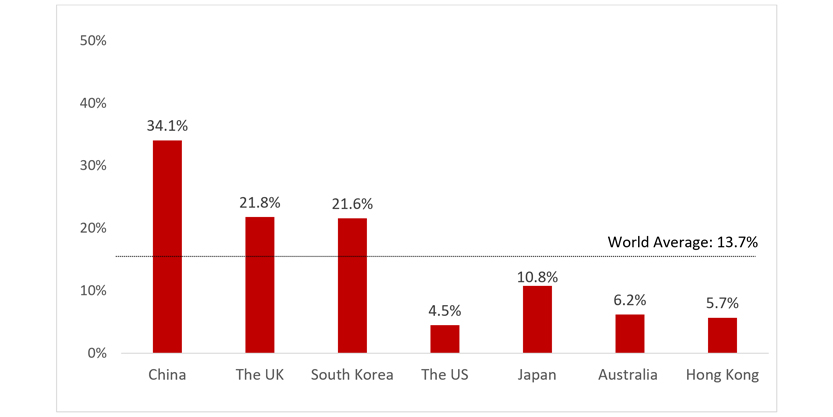 COVID-19 has changed consumer behaviour, thereby altering people's attitude and perception towards online shopping. Due to safety and hygiene concerns, and social distancing measures, online shopping has become significantly popular, especially for purchasing daily necessities, e.g., groceries and fresh consumable products. As one of the fast-growing local online shopping platforms, HKTVmall's number of daily orders grew about 100% in 1H20 over 1H19. Daily grocery products accounted for 44% of the company's total GMV (Gross Merchandise Volume).
Driven by robust consumer demand for online grocery shopping, coupled with demand arising from the healthcare sector (e.g., transportation and storage of vaccines), cold storage has attracted much attention from investors.
As an industrial asset, cold storage has always commanded a premium over conventional facilities. According to JLL and market sources, rents per square feet for a cold storage facility are 20-30% higher than a dry warehouse. In the COVID-19 era, demand for the cold chain facilities has risen due to the popularity of online shopping of fresh produce. The rental spread has started to further widen, especially for newer and highly functional cold storage facilities. As an investment asset, the appeal of cold storages also lies in the tendency that their leases are typically long. Because finding alternative facilities that fit occupiers' specific requirements could be challenging – hence stable and long-term income.
However, as cold storage remains a promising asset type, investment transactions have been few and far between due to scarcely available assets, specialised knowledge, and considerable construction costs.
The current cold storage market in Hong Kong is relatively underdeveloped, with an estimated licensed space of around four million square feet, accounting for around 8% of the total prime warehouse supply. The market is highly fragmented, dominated by operators and end-users, making it less available to new entrants to develop further. In addition, unlike traditional warehouses, given the unique nature of cold storage, stringent requirements such as temperate control, floor loading and power supply, etc., require high specialisation and related knowledge. Not to mention the heavy set up costs, estimated at HK$700 - $1,000 per square feet, on top of the construction cost. All the above constraints combined set challenges to investing in cold storage.
However, with growing demand, investment in cold storage facilities appears appealing despite higher costs and the requirement of specialised operating knowledge.