Hong Kong's co-living sector gains appeal
In the coming years, Hong Kong's co-living sector may see increasing new entrants while existing players continue to expand to secure their share.
Notwithstanding the dampened buyer sentiment in the residential market, Hong Kong's real estate investment market witnessed a surge in en-bloc hotel transactions. While 2021 was considered an active year for hotel investment, 2022 is set to become substantially more dynamic. In the first five months of 2022 alone, two en-bloc hotel deals have been closed, while three others are reportedly underway.
Figure 1: Total consideration of en-bloc hotel transactions between 2020 and 2022 YTD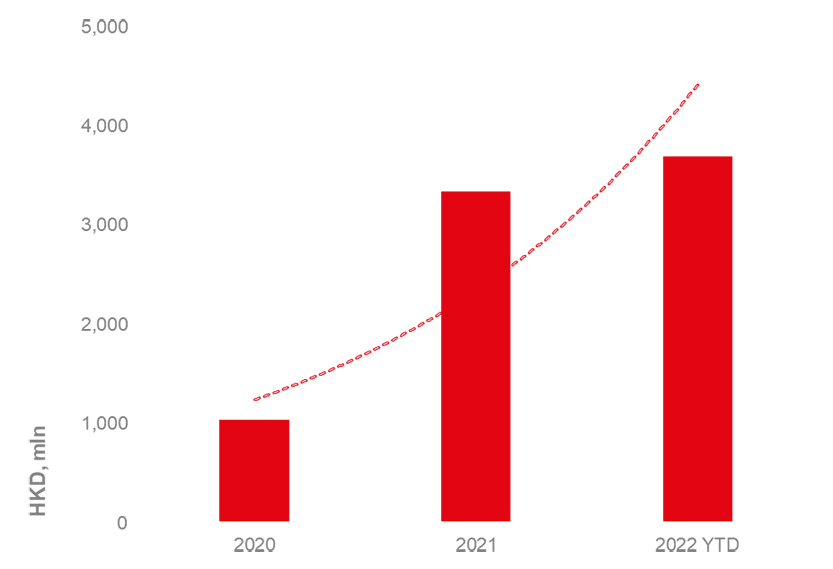 What drew investors' attention?
On the one hand, asking prices of hotel properties have fallen to what appears to be deemed appealing levels given the current market environment. The overall occupancy of hotels in Hong Kong dropped to 59% by the end of March 2022, compared to the annual average of 91% in 2018 (before social unrest in 2019 and the ongoing COVID-19 pandemic). Meanwhile, the average room rate also declined by 22.3% in the same period. In addition, the absence of a concrete time schedule for the re-opening of Hong Kong's international border as well as the city's border with mainland China renders a weak business sentiment in the short to medium term.

On the other hand, the demand for housing remains strong, especially in urban areas. According to the Immigration Department, student visas demonstrated an uptrend, although disrupted by the global COVID-19 outbreak in 2020. As most local universities resumed face-to-face teaching in 2021, the number of student visas rebounded to a level above the previous peak in 2019. The growing population of incoming students made up one of the major tenant groups for residential properties such as co-living facilities. Given inherently strong housing demand, this rising population will further lure investors' interest in small-size units in prime urban areas.

Figure 2: Student visas in Hong Kong between 2017 and 2021
| Year | No. of Student Visas Issued |
| --- | --- |
| 2017 | 32,648 |
| 2018 | 38,728 |
| 2019 | 41,895 |
| 2020 | 35,330 |
| 2021 | 43,732 |
Source: Hong Kong Immigration Department, JLL
Besides, the conversion of hotels into co-living facilities does not require major alterations to the premises. With minimal capital and time input required for the pursuit of these value-add opportunities, more investors are keen to seek suitable assets for such conversion.
Case study and outlook
The first successful en-bloc hotel deal to kick off 2022 was the Hotel Sav acquisition by AEW Capital Management-led joint venture (90%-AEW Fund; 10%-Crystal Investment). The deal was completed at HKD 4.2 million per room or a unit price of HKD 13,480 per sq ft. The 24-storey hotel covered a site area of 10,204 sq ft and a total GFA of approximately 122,108 sq ft. A portion of the property was converted into a co-living facility to improve occupancy by accommodating students and long-term tenants. As of end-Sep-21, the six-month average occupancy rate of the hotel reached 61%, although still below the city's overall monthly average of 65% during the same period. Adjacent to The Hong Kong Polytechnic University campus, the property is now being converted into student accommodation, looking to become the largest non-university operated student accommodation in the city.

We expect hotels to continue to be one of the most sought-after sectors for investors targeting value-add opportunities. Total considerations of en-bloc hotel transactions at HKD 3.7 billion in 2022 YTD have already exceeded last year's HKD 3.3 billion. It will be no surprise that 2022 sees a substantial bounce in transaction volume. Most of these properties will likely switch to co-living, indicating substantial industry expansion. In the coming years, the market may see increasing new entrants as existing players continue to expand to secure market share.